Home
About Us
Calendars
Great Room
Fiske Room
Arts Room
Friendship Hall
Reception Gallery
Lecompte Auditorium
Living Room
Game Room
Rentals
Rental Form [pdf]
Join Us
Donate
Plate Project
Winter Market
Contact Us



RENTALS
1912 Center Spaces


Great Room

Located on the ground floor off the front Plaza or accessible by elevator or two staircases, the old gym remains the heart of the 1912 Center as a community gathering place. It is great for wedding receptions, reunions, memorials, dances, symposiums, concerts, markets, and gatherings of all kinds. With south facing windows, a 16' high ceiling, a balcony that overlooks the room and glass doors that open onto Pall Plaza, there's plenty of light, as well as a full commercial kitchen and unlimited options for table arrangements. The Great Room is outfitted with dimmable lighting, automated window shades, a built-in sound system, projector, and motorized screen, and can seat 100 people for a dinner, 150 for rows of seating and up to 200 for a standing reception.






Arts Workshop

The Arts Workshop is a flexible classroom space uniquely suited to arts and crafts but that can work for a wide variety of purposes, from dance classes to birthday parties. Located in the southwest corner of the first floor, this window filled room features work tables and chairs, two sinks, and a cement floor for easy clean-up. A projector and projection screen is available. Capacity: 20-40, depending on the type of use.






Fiske Room

The Fiske Room, a first floor meeting space, is great for gatherings up to 20 people. The carpeted room contains eight modular 6' tables that can be arranged in a variety of configurations to suit renters' needs. There's a VGA-adaptable ceiling-mounted projector, wifi, dimmable lighting, white board, sink, mini fridge, microwave, coffee pot and hot water kettle available.






Lecompte Auditorium

This former high school auditorium on the second floor has been renovated for modern use. With seating for up to 100, the small stage is great for intimate concerts, lectures, weddings, recitals, and play readings.

Alternatively, the audience area can be cleared for a 60-person seated dinner, dances, and more. Rentals include chairs, projector, and screen. A podium and cordless mic and stand as well as tables can be added if desired. Elevator access is available to the stage level for load in.







Reception Gallery

The Reception Gallery is a large open room on the center south side of the second floor featuring high ceilings and a wall of windows overlooking 3rd Street. This room is perfect for smaller meetings of 15, dinner parties for 60 attendees and standing receptions for 100. Chairs and a variety of tables, from cocktail to 60" rounds, are available to arrange this room in many different ways. The Reception Gallery is also used as a pre-show and intermission space for performances in the Lecompte Auditorium.






Community Living Room

Located on the second floor, the Community Living Room offers a calm atmosphere perfect for small study groups, book clubs, retreats, writing sessions, tea parties, baby showers and other low-key gatherings of up to 20 people. Furnished with comfortable sofas and armchairs as well as a large table to seat 12, the room also has a kitchenette with a microwave and full-size refrigerator.



Building Layouts

Maps of the building are available by downloading Ground and First Floor Map [pdf] or our Second Floor Map [pdf].

Space reservations are handled directly at the 1912 Center in the Heart of the Arts, Inc. (HAI) Management Office. This office is located inside the Welcome Room of the building (formerly named the Senior Center) on the east side of the first floor. Enter our main entrance, the south east doors by the 1912 Center bench, to find the office.

Groups or individuals should direct all facility questions to HAI's Executive Director, Jenny Kostroff. She can be reached by calling or texting (208) 669-2249 Monday through Friday from 9 a.m. to 5 p.m. Email is also a great way to book the facility when booking after regular business hours.


2023 Room Rental Rates
Hourly Rate
Great Room
Fiske Room
Arts Workshop
Friendship Hall
Non-Profit Organization
$50 plus tax
$20 plus tax

$100 w/tax for M-F day use OR $20 w/tax per hour

Limited availability for $15 per hour w/tax as appropriate
Government/ Schools
$50 no tax
$20 no tax
Individual/Private
$100 plus tax
$20 plus tax
Includes:

20 8' tables, 14 60" rounds & 120 chairs

modular tables, 20 chairs, whiteboard & projector
work tables & chairs, some arts supplies & wash up sinks
tables & chairs in the room, sink & microwave
Hourly Rate
Lecompte Auditorium
Reception Gallery
Community Living Room
Green Dragon Game Room
Non-Profit Organization
$40 plus tax
$40 plus tax

$100 w/tax for M-F day use OR $20 per hour w/tax as appropriate

Limited availability for $20 per hour w/tax as appropriate
Government/ Schools
$40 no tax
$40 no tax
Individual/Private
$80 plus tax
$80 plus tax
Includes:

stage, screen projector & 90 blue cushion chairs

8 8' tables or 8 60" rounds & 64 chairs, sink
dining table & 14 chairs, couches, fridge, counter & sink
card tables & chairs set up in the room & long counter
1912 Center Kitchen
$30 plus tax one-time charge with Great Room rental
$30 plus tax per hour when used by itself
Alcohol Use Fee
$25 plus tax and work with a Moscow licensed provider
Tablecloths
$50-100 plus tax, colors of your choice, includes napkins
PCEI Plate Project
Available for use, requires $30-$100 fee OR training and 2-3 people/caterer to wash dishes after use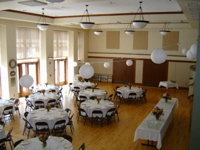 Great Room Wedding
How to rent a room at the 1912 Center:
Check the appropriate room's online calendar (located in the sidebar) to see if the date and time you are interested in reserving is open on the calendar.


Review our 1912 Center rental fees in the table above to be certain you are familiar with pricing at the 1912 Center. These rates are good through December 31, 2023.


Use our Room Rental Application as a reference for making your reservation. Download the Room Rental Form [pdf]. The Heart of the Arts, Inc. office will need the information from this form when you call or e-mail or text in your rental request.


Call the management office at (208) 669-2249 to make your reservation over the phone or come to the 1912 Center to check out facility spaces in person. The Executive Director will be happy to show you around and to answer any questions that you may have about renting. You can text a photo of your application to our number (208) 669-2249. Old school? You can also fax your application form to (208) 883-4576.




Performance in Great Room

At the time of booking (by phone, text or email), your event will be added to the calendars online. It will be listed as a private event with the full rental hours, unless you let us know the event is open to the public. Public events list additional event information and only show the public hours for the event on the web calendars. You can confirm that your event has been booked by checking the online calendar. Prior to your event date, you will receive an invoice by email for your event. If you need the invoice sooner than the week of your event, please let the office know.


Full payment of rental invoice is due the day of your event prior to loading in to the building.


On the day of your event you will be met at the building by one of our Event Coordinators or Building Supervisors. They are here to help your event go smoothly without interfering in the actual event. They will set up your room layout prior to your arrival with tables, chairs and tablecloths. They will also help get the mics and sound systems running and the projector and screen set up, if needed. For all projector needs, plan to bring your own laptop to the building. Following your event, the employees will be on hand to help your group break everything down and to get the room back to neutral.


Every rental of the 1912 Center helps us to build out the remaining unfinished spaces in the facility. Thank you for making a valuable contribution to our community with your rental. Heart of the Arts, Inc. looks forward to working with you!



top
Heart of the Arts, Inc. (HAI) Enriching lives and creating community by operating and restoring the 1912 Center.